Brussels sprouts are are high in fiber (which can help lower cholesterol) and folate. They are loaded with antioxidants and packed with vitamins, including Vitamins A, C, E, K and several B vitamins. When purchasing brussels sprouts make sure they don't have any brown or mushy spots and that they are bright green in color. They should be round (not elongated) and have tightly packed leaves.
Brussels Sprouts with Balsamic and Cranberries
Makes 10 to 12 servings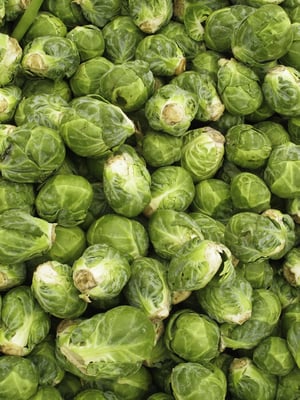 Ingredients:
3 pounds Brussels sprouts
½ cup olive oil
1 cup sugar
¾ cup balsamic vinegar
1 cup dried cranberries
Preparation:
Preheat the oven to 375 degrees F.

Trim/clean the Brussels sprouts, then cut them in half. Arrange on 2 baking sheets and toss with the olive oil. Roast until brown, 25 to 30 minutes.
Combine the balsamic vinegar and sugar in a saucepan. Bring to a boil, then reduce the heat to medium-low and reduce until very thick.
Drizzle the balsamic reduction over the roasted sprouts, then sprinkle on the dried cranberries.
---