Corn is classified as both a vegetable and a grain. Kernels of corn are vegetables, but popcorn and the processed corn used to make muffins and cereals are grains.
Corn is rich in fiber, vitamin C, thiamine and folate. The high amount of fiber found in corn may help lower cholesterol levels. In addition, corn has a minimal affect on blood sugar which is beneficial for individuals with diabetes.
Black Bean and Corn Salad
Recipe courtesy of Rachael Ray, Yields 4 servings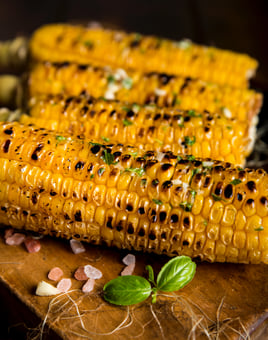 Ingredients:
1 can, 14 ounces, black beans, rinsed and drained
2 cups frozen corn kernels
1 small red bell pepper, seeded and chopped
1/2 red onion, chopped
1 1/2 teaspoons ground cumin, half a palm full
2 teaspoons hot sauce, just eyeball the amount (recommended: Tabasco)
1 lime, juiced
2 tablespoons vegetable or olive oil, eyeball it
Salt and pepper
Directions:
Combine all ingredients in a bowl. Let stand at least 15 minutes for corn to fully defrost and flavors to combine, then toss and serve. The corn will also place a quick-chill on this easy side-salad as it defrosts -- no need to refrigerate!
Read more at: http://www.foodnetwork.com/recipes/rachael-ray/black-bean-and-corn-salad-recipe/index.html
---