Grapes are an excellent source of phytonutrients, which may help lower the risk of developing some diseases.
This small fruit is an excellent source of manganese, a very good source of vitamin K (bone health), good sources of vitamin B6 and potassium (heart health) and vitamin C (immune support). Throughout September and early October, look for locally grown grapes at a farmers market or roadside farm market.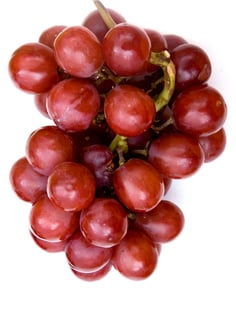 Tart and Crunchy Fresh Tuna Salad
Makes 4 servings
Ingredients:
2 large fresh tuna steaks (about 1 ½ pounds)
2 lemons, thinly sliced, plus ½ lemon
zested and juiced, as needed
Kosher salt
Freshly ground black pepper
1 cup fat free Greek yogurt
½ cup halved red grapes
¼ cup toasted and chopped walnuts
Directions:
Preheat oven to 350°.
Put a large sheet of parchment paper on a baking sheet.
Arrange the lemon slices on the parchment, slightly overlapping, covering in an area just larger than the size of the tuna steaks.
Season the tuna well on both sides with salt and pepper and arrange them directly on the lemon slices.
Sprinkle the zest evenly over the tuna.
Bring the 2 long sides of parchment together and fold down over the tuna; fold the ends of the parchment and tuck them under the fish like an envelope.
Roast in the oven until cooked through, about 18 to 20 minutes; the tuna should flake easily with a fork and is no longer pink in the center
Open the parchment packet and let the tuna cool until it can be handled, then flake it with a fork.
Transfer to a serving bowl along with any cooking juices it has released.
Add the yogurt, grapes, and walnuts and stir to combine.
Season with salt and pepper and freshly squeezed lemon juice, to taste. Serve immediately or refrigerate until ready to eat.
Serve this healthy salad on butter lettuce leaves, on a slice of toasted seedy whole wheat bread, with fresh cantaloupe slices, or eat straight out of the refrigerator with a fork!
---