Green beans are an excellent source of vitamin C, vitamin A and vitamin K (important for bone health). This veggie is a very good source of folate, vitamin B6, magnesium, potassium and dietary fiber (all important for heart health). Additionally, green beans provide a good amount of iron, vitamin B1, calcium, phosphorus, copper, protein and omega-3 fatty acids.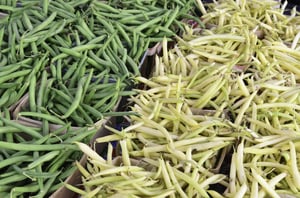 Garlicky Green Beans with Pine Nuts
Makes 6-8 servings.
Ingredients:
1-½ pounds green beans, trimmed
2 tablespoons olive oil
2 large cloves garlic, thinly sliced
⅓ cup (about 2 ounces) pine nuts
salt and pepper
Directions:
Bring a large pot of salted water to a boil.
Add the green beans and cook until just tender, 3 to 5 minutes.
Meanwhile, heat the oil in a large skillet over medium heat.
Add the garlic and cook, stirring, for 1 minute.
Add the pine nuts and cook until golden brown, about 3 minutes.
Drain the green beans and transfer to the skillet.
Add ½ teaspoon salt and ¼ teaspoon pepper and toss to coat.
Transfer to a serving bowl!
---