August is National Peach Month! Visit your local farmer's market this month for fresh, locally grown peaches. Peaches are small, but packed with essential nutrients.
Peaches are low in calories (only about 35 calories in a medium peach), are fat-free and cholesterol-free. This fuzzy fruit is a good source of vitamins A (beta-carotene), C and potassium and an excellent source of fiber (good for blood sugar and keeping cholesterol levels low). You'll also get about 10% of your recommended daily intake of vitamin C in just one peach.
Grilled Halibut with Peach and Pepper Salsa
Makes 4 servings (serving size: 1 fillet and about 2/3 cup salsa)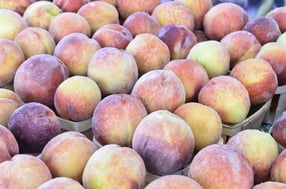 Ingredients:
Salsa:
1 ⅓ cups coarsely chopped peeled yellow peaches (about 1 pound)
1 cup chopped red bell pepper (about 1 medium)
⅓ cup thinly sliced green onions
⅓ cup chopped fresh arugula
¼ cup fresh lemon juice (about 2 lemons)
4 teaspoons chopped fresh oregano
⅛ teaspoon salt
½ habanero pepper, seeded and minced
1 garlic clove, minced
Fish:
4 teaspoons fresh lemon juice
4 teaspoons olive oil
½ teaspoon paprika
1 garlic clove, minced
4 (6-ounce) skinless halibut fillets
⅜ teaspoon salt
⅜ teaspoon freshly ground black pepper
Cooking spray
Preparation:
To prepare salsa, combine first 9 ingredients; toss gently. Let stand 30 minutes before serving.
Prepare grill to medium-high heat.
Remove fish from marinade; discard marinade. Sprinkle fish evenly with ⅜ teaspoon salt and black pepper. Place fish on a grill rack coated with cooking spray; grill 3 minutes on each side or until desired degree of doneness. Serve fish with salsa.
---