Is it a fruit or a vegetable? To be precise, it's a fruit, but we eat it like a vegetable. Tomatoes are an excellent source of lycopene, a powerful natural antioxidant.
Studies show that lycopene may improve the skin's ability to protect against harmful UV rays and may also help reduce the risk of some cancers. Lycopene has also been associated with a lower risk of heart disease. In addition, tomatoes are an excellent source of vitamins C, A and K (key for bone health).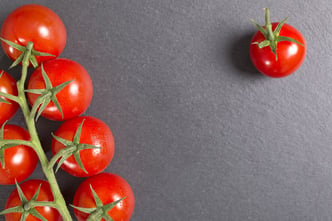 Double Tomato Bruschetta
Makes 12 servings.
Ingredients:
6

roma (plum) tomatoes, chopped
½ cup sun-dried tomatoes, packed in oil
3 cloves garlic, minced
¼ cup olive oil
2 tablespoons balsamic vinegar
¼ cup fresh basil, stems removed
¼ teaspoon salt
¼ teaspoon ground black pepper
1 French baguette
2 cups shredded mozzarella cheese
Directions:
Preheat the oven on broiler setting.
In a large bowl, combine the roma tomatoes, sun-dried tomatoes, garlic, olive oil, vinegar, basil, salt, and pepper. Allow the mixture to sit for 10 minutes.
Cut the baguette into ¾-inch slices. On a baking sheet, arrange the baguette slices in a single layer. Broil for 1 to 2 minutes, until slightly brown.
Divide the tomato mixture evenly over the baguette slices. Top the slices with mozzarella cheese.
Broil for 5 minutes, or until the cheese is melted.
---