August 3rd was National Watermelon Day! It's not too late to celebrate by having a slice of juicy watermelon this week. Did you know that this fruit is over 90% water! Watermelon is an excellent source of vitamin A (important for eye health and boosts immunity) and C (also boosts immunity) and a good source of vitamin B6 (important for nerve function and helps the body use protein).
Grilled Watermelon with Blue Cheese and Prosciutto
Makes 4 servings. Preparation time: 20 minutes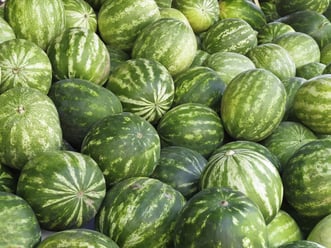 Ingredients:
3 (1/2-inch-thick) watermelon rounds, quartered
1 tablespoon olive oil
Kosher salt
Freshly ground pepper
4 ounces thinly sliced prosciutto
4 ounces blue cheese, crumbled
Fresh basil leaves
2 teaspoons bottled balsamic glaze
Preparation:
Preheat grill to 350° to 400° (medium-high) heat. Brush both sides of each watermelon quarter with olive oil, and season with desired amount of salt and pepper. Cut prosciutto into thin strips.
Grill watermelon quarters, without grill lid, 1 minute on each side or until grill marks appear.
Transfer watermelon to a serving plate; top with blue cheese, prosciutto strips, and fresh basil. Drizzle watermelon with balsamic glaze. Serve immediately.
Additional information can be found at My Recipes.
---