Bell Peppers are rich in antioxidant and anti-inflammatory phytonutrients. These peppers are an excellent source of vitamin A, C and B6. They are also a good source of folate, vitamin E, fiber, vitamin K, potassium, vitamin B1 and B2. Bell peppers are a quick, healthy snack or a great way to add vegetables to any meal.
Curried Caribbean Rice Pilaf
Makes 6 servings (1 ½ cups per serving)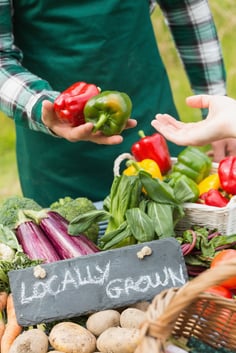 Ingredients:
1tablespoon canola oil
1 large onion, chopped
4 cloves garlic, chopped
1 cup long grain white rice
1 (14-ounce) can chicken broth
1 tablespoon curry powder
1 cup cherry tomatoes, halved
1 red bell pepper, minced
1 green bell pepper, minced
1 yellow bell pepper, minced
Preparation:
Heat the oil in a large heavy kettle over medium heat; add the onion and the garlic. Cook and stir 3 to 5 minutes, or until the onion is soft. Do not burn the garlic.
Add the rice, broth and curry. Bring to a boil. Reduce heat, cover, and cook 15 minutes, or until the rice is tender.
Remove from heat, stir in the tomatoes and bell peppers; cover and let stand 10 minutes.
Fluff with a fork and serve.
---