Cabbage is an excellent source of vitamin K, vitamin C and vitamin B6. Along with many other nutrients, it also provides a good amount of vitamin B1, vitamin B2, folate, calcium, iron and protein. Another great benefit of cabbage is that it can provide cholesterol-lowering benefits when steamed. Cabbage will become available at local NC farmers markets and food stands in early May and is a great way to buy fresh produce.
Pork Tenderloin with Cabbage and Apple Slaw
Makes 4 servings (serving size: 3-4 slices pork plus 1 ½ cups salad)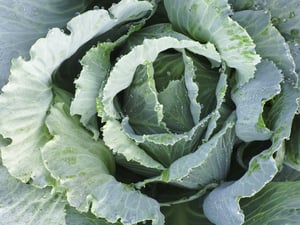 Ingredients:
½ tablespoon olive oil
2 pork tenderloins (1 ¼ pounds total)
¾ teaspoon kosher salt, divided
¾ teaspoon black pepper, divided
2 tablespoons rice vinegar
1 tablespoon honey
1 small Napa cabbage (about 1 pound), quartered, cored, and thinly sliced
1 crisp red apple (such as Gala or Fuji), cut into thin wedges
¼ cup fresh cilantro sprigs
Preparation:
Preheat oven to 400°. Heat oil in a large ovenproof skillet over medium-high heat. Season pork with ½ teaspoon each salt and pepper; cook, turning occasionally, for 6-8 minutes or until browned.
Transfer skillet to the oven, and roast at 400° for 12-14 minutes or until pork is cooked through. Let rest for at least 5 minutes before slicing.
Meanwhile, combine the vinegar, honey, and remaining salt and pepper in a large bowl. Add the cabbage and apples; toss. Let slaw sit for 5 minutes, tossing occasionally. Fold in cilantro, and serve with the pork.
---