Cashew nuts have a lower fat content than most nuts and much of their fat comes from heart healthy monounsaturated fats. Cashews are a good source of antioxidants. In addition, they provide an excellent amount of copper (bone and tissue health) and a good amount of magnesium (bone health) and zinc (immune system).
Asparagus with Cashews
Makes 6 servings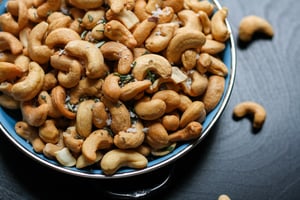 Ingredients:
1½ lbs asparagus
2 tablespoons olive oil
2 teaspoons sesame oil
2 teaspoons ginger, minced
½ cup shiitake mushroom
½ cup roasted cashews
1 tablespoon soy sauce
Preparation:
Preheat wok or skillet to medium high or 325°.
Snap off tough ends of asparagus. Cut asparagus into 2 inch pieces.
Pour oils around top of a preheated wok or skillet for 2 minutes. Add ginger, stir-fry for 30 seconds.
Add asparagus, and stir fry for 2 minutes.
Add mushrooms, and stir fry 5 minutes or until asparagus is crisp-tender.
Add cashews and soy sauce; toss gently.
---