Cod is a white, mild flavored fish. This low-calorie fish is packed with protein and an excellent source of vitamin B12. It is also a very good source of potassium, vitamin B6 and omega-3 fatty acids. Studies show that individuals who eat fish regularly have a much lower risk of heart disease and heart attack than people who don't consume fish. Choosing baked, broiled, roasted or grilled over fried fish will provide the most health benefits.
Pan-Roasted Cod and Fennel With Spinach Couscous
Makes 4 servings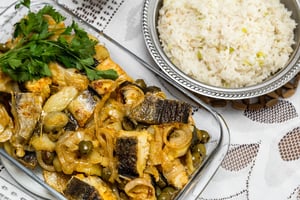 Ingredients:
2 tablespoons olive oil
1 bulb fennel, cut into wedges
1 medium red onion, cut into wedges
kosher salt and black pepper
¼ cup dry white wine
1 ½ pounds skinless cod or some other firm white fish fillets
½ teaspoon ground coriander
1 cup couscous
2 cups flat-leaf spinach (1 ½ ounces), chopped
Preparation:
Preheat oven to 400° F.
Heat the oil in a large ovenproof skillet over medium-high heat. Add the fennel, onion, and ¼ teaspoon each salt and pepper. Cook, tossing frequently, until beginning to soften, 8 to 10 minutes. Add the wine.
Season the cod with the coriander and ¼ teaspoon each salt and pepper and nestle in the vegetables. Transfer the skillet to oven and roast until the cod is opaque throughout, 8 to 12 minutes.
Meanwhile, cook the couscous according to the package directions. Fluff with a fork and fold in the spinach. Serve with the cod and vegetables.
---