Eggs contain high-quality protein and are a good source of vitamins A, D, B2, B5 and B12. Current research shows that most healthy people can consume one egg yolk a day, as long as total cholesterol intake is at or less than 300 milligrams. One large egg has just 70 calories and egg whites are cholesterol free. In addition, eggs contain additional nutrients (lutein and zeaxanthin) that may promote healthy vision.
Muffin Frittatas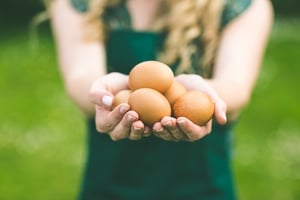 Makes 6 servings
Ingredients:
6 eggs
½ cup milk
¼ tsp. salt
⅛ tsp. pepper
1 cup shredded Cheddar cheese (4 oz.)
¾ cup chopped zucchini
¼ cup chopped red bell pepper
2 Tbsp. chopped red onion
Preparation:
HEAT oven to 350°F.
BEAT eggs, milk, salt and pepper in medium bowl until blended. ADD cheese, zucchini, bell pepper and onion; mix well. SPOON evenly into 12 greased muffin cups, about ¼ cup each.
BAKE until just set, 20 to 22 minutes. COOL on rack 5 minutes. REMOVE from cups; serve warm.
---