Updated: FRIDAY, APRIL 17, 2016
West Ashley, SC - Milk is a nutrient-dense beverage that contains protein, calcium, vitamin D, phosphorus, potassium, vitamin B12 and other vitamins and minerals. The main nutrients found in milk can help with strength and recovery. Protein is not only good for building muscles but it plays a key role in building bones. In addition, calcium and vitamin D are important to keeping healthy bones. Anyone who is active knows that muscle pulls, sprains, broken bones or stress fractures can keep you out for a while. Including plenty of milk and other nutrient-rich foods in your diet can help you get back on your feet and back to being active. Including milk in your post-work meals will also help provide optimal muscle repair and recovery, try a smoothie made with low-fat milk or have some low-fat chocolate milk.
Chunky Monkey Post-Workout Smoothie
Makes 1 servings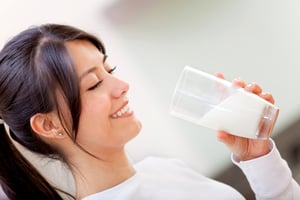 Ingredients:
1 medium banana
1 tablespoon peanut butter
1 cup low-fat chocolate milk
3 ice cubes
Preparation:
Combine all ingredients and blend.
---