Mussels can be smoked, boiled, steamed, roasted, barbecued or fried in butter or vegetable oil. If you are preparing mussels yourself, be sure to check to ensure they are still alive just before they are cooked. This shellfish is very low in fat, but rich in Omega-3 fatty acids. Mussels are also a good source of protein, vitamins B2 and B12, iron, folic acid and zinc.
Mussels in White Wine
Makes 2 servings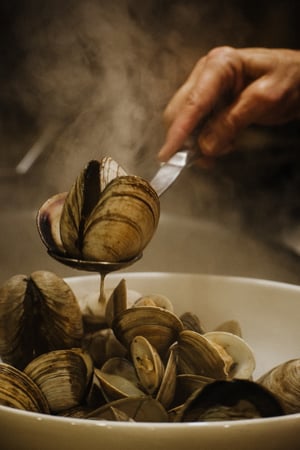 Ingredients:
3 pounds cultivated mussels
⅓ cup all-purpose flour
2 tablespoons unsalted butter
2 tablespoons good olive oil
1 cup chopped shallots (5 to 7 shallots)
1-½ tablespoons minced garlic (5 to 6 cloves)
½ cup chopped canned plum tomatoes, drained (4 ounces)
½ teaspoon good saffron threads
⅓ cup chopped flat-leaf parsley
1 tablespoon fresh thyme leaves
1 cup good white wine
2 teaspoons kosher salt
1 teaspoon freshly ground black pepper
Preparation:
To clean the mussels, put them in a large bowl with 2 quarts of water and the flour and soak for 30 minutes, or until the mussels disgorge any sand. Drain the mussels and then remove the "beard" from each with your fingers. If they're dirty, scrub the mussels with a brush under running water. Discard any mussels whose shells aren't tightly shut.
In a large non-aluminum stockpot, heat the butter and olive oil over medium heat. Add the shallots and cook for 5 minutes; then add the garlic and cook for 3 more minutes, or until the shallots are translucent. Add the tomatoes, saffron, parsley, thyme, wine, salt, and pepper. Bring to a boil.
Add the mussels, stir well, then cover the pot, and cook over medium heat for 8 to 10 minutes, until all the mussels are opened (discard any that do not open). With the lid on, shake the pot once or twice to be sure the mussels don't burn on the bottom. Pour the mussels and the sauce into a large bowl and serve hot.
---