Raspberries are an excellent source of vitamin C and fiber. They are also a good source of vitamin K, vitamin E, folate, omega-3 fatty acids and potassium. In addition to the high nutrient content of these berries, they are packed with antioxidants. Raspberries are highly perishable and should be purchased one or two days prior to use. If you don't plan to use them right away, they do freeze well to be used at a later time.
Quinoa Pilaf with Raspberries
Makes 4 servings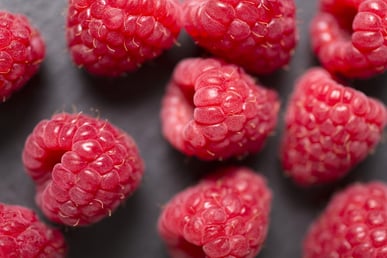 Ingredients:
1-½ cups reduced sodium chicken or vegetable broth
¾ cups quinoa
⅛ teaspoons ground black pepper
½ cups finely chopped parsley
½ cups finely chopped toasted walnuts
½ cups dried currants
1 package (6 ounces) raspberries
Preparation:
In a medium saucepan, combine broth, quinoa and pepper. Bring to a boil.
Reduce heat to low, cover and simmer 12 to 15 minutes or until liquid is absorbed.
Fold parsley, walnuts, currants and raspberries gently into hot quinoa.
Let stand covered 5 minutes.
Serve warm or at room temperature.
---