Join us Saturday, July 29th at any O2 Fitness club location as we LAUNCH brand-new choreography to our favorite Les Mills classes. To keep the magic alive, Les Mills refreshes its signature Group Fitness classes with new music and choreography every three months. So, O2 Fitness group fitness instructors in 20 North Carolina & South Carolina clubs spent weeks learning new grooves to classes including BODYPUMP, BODYCOMBAT, BODYFLOW, CXWORX, RPM & more.
Don't want to come alone? No problem—bring a friend to shake it with for FREE!
In addition to new classes, we will be giving out fun, free O2 Fitness swag. To join us, be sure to check the class schedules on our Group Fitness page.
Why group fitness?
Whether you're time-crunched, new to fitness and want additional guidance or simply need a community of like-minded, passionate people, Group Fitness might be the .
If you've been wanting to try a class but have been hesitant of the 'unknown,' LAUNCH is the perfect time to jump right in. Since the routines are new, everyone is technically new that day.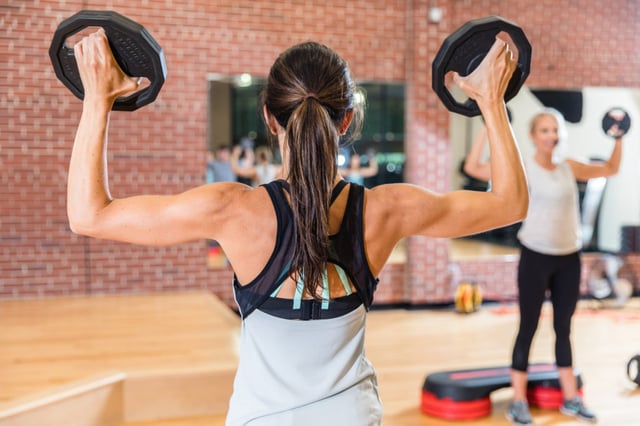 What class is right for you, you ask?

BODYCOMBAT:
The Body Combat fitness class combines karate, boxing, taekwondo, tai chi and muay thai techniques into one workout, giving you a sweat-wrenching fusion of martial art movements that challenge your body to adapt and your muscles to ignite.
BODYPUMP:
Bodypump class is ideal for quick and effective full body workout. The 1-hour barbell workout incorporates squats, presses, lifts and curls. Each movement sculpts multiple muscle groups for a more efficient workout.
BODYFLOW:
Body Flow combines yoga, tai chi and pilates postures and exercises into one workout. However, each of these disciplines requires attention to breath, concentration and core stability and strength. Through an emphasis on these areas, Body Flow gently steers your mind and body toward a blissful harmony.
CXWORKS:
Using a fitness band, you'll perform various functional movements that demand an engaged core, stabilized lower body and tightened upper body. This workout hones in on your torso and sling muscles, i.e. the muscles that connect your upper body to your lower body – your core!
RPM:
LesMills RPM is a perfect fitness class for the rider inside of you. You'll tackle a variety of terrains through resistance levels meant to simulate downhill slopes, steep peaks and flat straightaways, that will strengthen every muscle in your leg, engage your core and spike your heart rate to get you in shape.
See you there!
---