If you are looking to shake up your routine this summer, your O2 Fitness membership is here to help. There are plenty of new and exciting classes to choose from that can help you reach your wellness goals this season. Here are 3 new classes you can try this summer to change up your routine and challenge your body, mind, and comfort zone.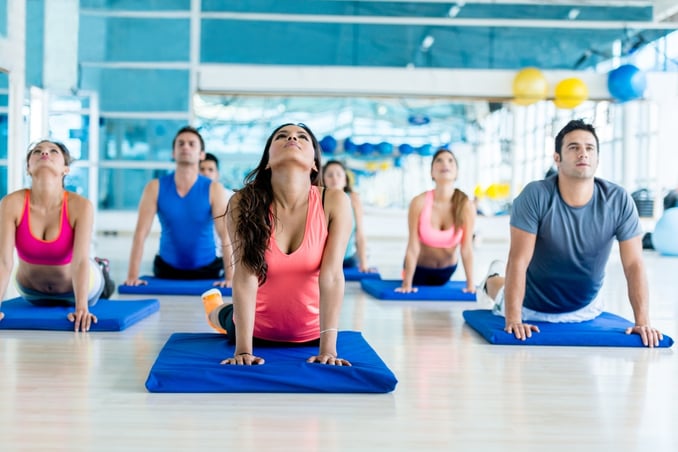 Les Mills Classes
You might have heard of Les Mills classes before, and now is a great time to give them a try! Les Mills BodyPump, for example, is a high-intensity class that involves using weights during a challenging interval workout. Designed to help you build strength and muscle, Les Mills BodyPump takes a proven approach to fitness. If you are looking for a challenging class to get you moving on all of your fitness goals, Les Mills BodyPump might just be for you. Give it a try this summer to help refine your muscles and your confidence.
For those seeking a more modified workout challenge, Les Mills has a few other variations that you can give a try. This includes:
Zumba Fitness Classes
Zumba is another effective workout that can help you build strength while testing the limits of your comfort zone. While it can seem intimidating, you might be surprised to find that Zumba is more closely aligned with your own workout principles than you might have thought. This workout involves dancing and having a good time while burning calories based on a calculated workout formula, making it both fun and effective. There are also classes with varying stages of moderations designed to accommodate every level and comfort zone, so you will never feel behind or out of place in your Zumba Fitness class. On the contrary, these classes are constructed for inclusion and confidence building. The best way to see for yourself is to give it a try this summer.
The Zumba Class lineup also includes a wide selection Zumba Gold options, which are designed for older adults who are seeking a fun workout to maintain an active lifestyle. Between both Zumba and Zumba Gold, there is sure to be a Zumba class for you. Try a Zumba class today for a summer adventure will bring you fun and fitness.
Yoga Practices
Yoga is another workout designed to improve your wellness and challenge your comfort zone. While you might think that yoga workouts are reserved specifically for a certain body type or experience level, you will find that these circuits are more inclusive than they may seem to be. You can improve your strength, flexibility, and mindfulness w hile engaging all of your muscles in a deep stretch. There are plenty of different yoga classes to choose from, based on what you are hoping to get out of the practice. For example, O2 Yoga is a more measured and traditional yoga practice, while Yoga Mojo provides a more challenging flow, and PiYo classes combine the best of Pilates and yoga for a balanced workout.
If you are unsure of what yoga classes is right for you, do not be afraid to reach out to a professional. Yoga instructors want you to feel comfortable and succeed in your practice, which is why they would be happy to give you insight into the classes offered and guidance on which would be best for you based on your interest, fitness goals, and skill level. Encourage your mind to let go of your stressors and the mental objections that may be holding you back with a yoga practice that conditions both your mind and your body. Allow yoga to be your escape this summer help you feel at peace with the season.
New Fitness Classes Near Me
Challenge yourself to try something new this summer with O2 Fitness' diverse range of classes. Whether you are hoping to work out your mind, body, mobility, or all three, O2 Fitness has what you are looking for this season. Sign up and give these classes a try today risk-free with our free membership trial!
---