Whether you're new to working out or you're a fitness expert, from time to time we all need help in achieving our goals. Personal training is an excellent way to ensure you're getting the most out of every trip to the gym. Exercising with a skilled professional and a focused plan can do wonders for your well-being and your waistline. We sat down with Taylor and McKenzie at O2 Seaboard Station to hear a few of the many benefits of personal training.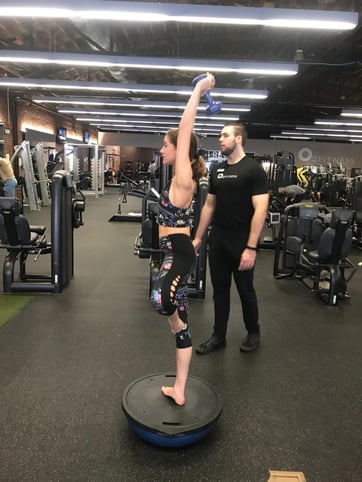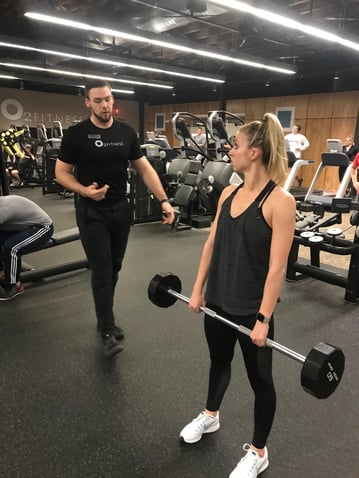 Taylor (right) and McKenzie (left) train with Grant Cain at O2vFitness Seaboard Station in downtown Raleigh.
1. Want to lose weight? Get a six-pack? Train for a marathon? No matter your fitness goal, our trainers can help you get there with personalized workouts. "As a dancer, I wanted to develop lean muscle. Grant really does his research on dancers and knows what I need to hit my goals," Taylor said. "If you work with a trainer, the workouts are completely tailored to you. If you do group fitness classes for example, you don't get that kind of individual attention."
2. It's crucial during any workout to ensure that you have correct form not only to maximize results, but to prevent injury. A personal trainer can demonstrate how to safely perform an exercise so you're getting the results you need without the risk. "Without a trainer, you could be working out and opening yourself up to injury without knowing it. I pronate my left knee in when I squat, and Grant is helping me to do exercises to avoid that," Taylor said. "If I had been doing that over and over by myself, I would have eventually gotten injured."
3. How many times have you skipped a workout and told yourself, "maybe tomorrow?" It's much harder to skip that session when a personal trainer is holding you accountable. Have you plateaued and stopped seeing results? A personal trainer is a built-in motivator to cheer you on through every last rep.
4. "Grant has introduced me to a lot of exercises I wouldn't have done otherwise or by myself," Taylor said. It's easy to get in a rut when it comes to your exercise routine. Once you're comfortable with a move, why change? When you push yourself outside of your comfort zone, the real results happen. A personal trainer can challenge your muscles with new workouts to get you to your end goal faster.
5. When you make the effort to come in for a workout, you want to ensure your time isn't wasted on ineffective exercises. Your trainer can ensure that every session builds on the last and is laser-focused on targeting your goals. "I can tell I've definitely built more strength and become more flexible," McKenzie said. "You'll definitely see results. They'll take care of you and treat you like you're their only client."
Kick your workouts up a notch with a professional O2 Fitness personal trainer. Each workout is tailored to you to help you achieve your fitness goals faster. Get started today.
---