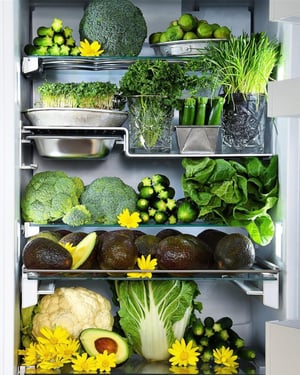 There's a reason you were always told to eat your greens as a child. Green foods are jam-packed with vitamins, nutrients, and minerals that can do serious wonders for your health when eaten on a regular basis. Today and every day, incorporate more green into your diet and give your body a boost of benefits!
Peas
Tiny but mighty. Green peas are packed with antioxidants and anti-inflammatory phytonutrients. Translation? They can help lower your risk of Type 2 diabetes, heart disease, and chronic inflammation. Cook them in a saucepan and add some onion for a yummy and nutritious side dish!
Matcha Tea
Get your antioxidant boost with a hot cup of matcha tea. Matcha has a unique type of antioxidant called catechins which are especially effective in fighting cancer. Catechins found in matcha are also known to prevent skin damage. Next time you're craving a latte, make it a matcha.
Kiwi
Most people think that oranges have the highest concentration of Vitamin C. Wrong! Kiwis contain almost twice the Vitamin C percentage of both oranges and lemons. Next time you need an immunity boost, grab a kiwi! Kiwi's other nutrients and vitamins help fight stress and promote healthy bones, teeth, and vision.
Brussels Sprouts
Studies have shown that Brussels sprouts can help detoxify the body and even help in fighting cancer. The Vitamin K in these green veggies helps develop strong bones while the potassium levels help lower the heart rate. Toss a few Brussels in olive oil and roast them in the oven for a great side dish and let the nutrients sink in.
Avocados
This popular superfood is rich in nutrients and can improve vision, boost heart health, aid with digestion, and reduce inflammation. Avocados also contain high levels of folate which helps decrease the risk of depression. Pass the guacamole!
If you're looking for less veggies and more beer on this St. Patrick's Day, grab a Guinness Draught. This true Irish brew is known for being dark and heavy, but actually clocks in at just 125 calories. Eat green, wear green, and drink responsibly!
---