Fourth of July weekend is here, and it's time to celebrate!
But no backyard barbecue would be complete without some delicious red, white, and blue treats. So we found the BERRY best patriotic fruit creations to wow your cookout crew this 4th of July.
Flag Fruit Pizza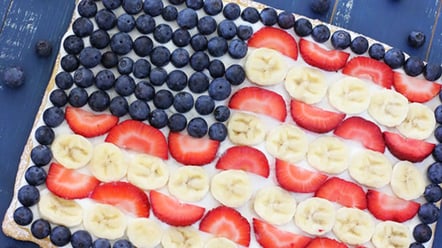 Ingredients
1 Pillsbury™ refrigerated Crescent Dough Sheet
2 cartons (about 8 oz. total) low-fat Greek vanilla yogurt
3 cups blueberries
3 bananas
1 pound strawberries
Powdered sugar for dusting, if desired
Directions
Preheat oven to 375°F.
On a greased baking sheet, lay out the Crescent Seamless Dough Sheet to make a rectangle. (Gently shape the edges if need be, and push down the corners so that they do not flare up.) Bake for 15-20 minutes until cooked and lightly golden. Remove and let cool to room temperature. Dust lightly with powdered sugar if desired.
Spread the yogurt on top of the dough sheet so that the entire pizza is covered, leaving a 1/2-inch border around the outside. Place the blueberries all around the outside to make a border, and then fill in the upper-right quadrant with a rectangle of blueberries.
On a cutting board, slice the strawberries and bananas into thin coins, and halve them if needed so that they are about the same size. Layer the strawberries and bananas onto the pizza to make red and white stripes.
Serve immediately or refrigerate for up to a few hours.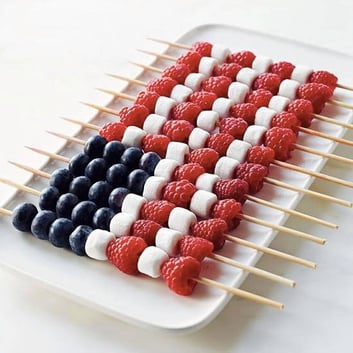 Flag Fruit Kabobs
These kabobs are a great no-bake, healthy option to bring to any cookout or block party!
Ingredients
Blueberries
Strawberries or Raspberries
Bananas or Marshmallows
Directions
On the first 5, skewer the fruit in this order: 4 blueberries, 2 mini-marshmallows or banana slices, and 2 raspberries or strawberries. On the remaining seven sticks, skewer 4 raspberries or strawberries and 3 marshmallows or banana slices to create this all-American treat.
Flag Fruit Toast

Now that the food at the cookout is covered, try this tasty (and festive) breakfast treat to get your day started!
Ingredients
2 slices whole-wheat bread
1 cup blueberries
1 banana
1 cup strawberries
1 tbsp peanut butter
Directions
Toast whole wheat bread slices.
Spread peanut butter on each slice, covering the top side fully.
Place the blueberries in 3 even rows in the upper right corner.
Halve the strawberry slices and line them across the top of the bread.
Place the halved banana slices in a row under the strawberries.
Repeat until you reach the bottom of the bread and repeat on other slices.


There's nothing quite like some fun flag-themed food to kick off that 4th of July celebration. So, go ahead and try some (or all) of these recipes to have a happy and healthy Independence Day.
Tell us below how do you like to celebrate on the 4th of July!
---