Who doesn't love the holidays? The festive activities and parties, gift-giving, and enjoying sweet holiday treats are some things that kids and adults can agree make the holiday season great!
But adding Christmas cheer to snacks and party foods doesn't mean they have to be full of sugar or highly processed.
With these 3 easy, healthy Christmas snack recipes on hand, you'll be one step closer to a stress-free holiday season (plus, you can munch on these with the family during the day and still have room for that delicious Christmas dinner!)
Peppermint Yogurt Bark
It is chocolatey, sweet, minty, and a secret protein source! This peppermint bark will probably be your new favorite sweet treat this holiday season!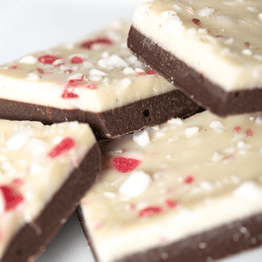 Ingredients
4 Cups Full-Fat Greek Yogurt
3/4 Cups Pure Maple Syrup
3 1/2 Tsp Peppermint Extract
1/2 Tsp Vanilla Extract
1 1/4 Tbsp Dark Cocoa Powder
Instructions
Line a baking sheet with parchment paper.
Make the bottom layer (the dark chocolate layer) by combining 2 Cups of Greek Yogurt, 1 1/2 Tbsp Dark Cocoa Powder, 1/2 Cup Maple Syrup, and 1 1/2 Tsp of Peppermint Extract. Mix well.
Spread evenly on the baking sheet and freeze until solid, about 30 minutes.
As the dark chocolate layer sets, begin to make the top white layer. In a mixing bowl, combine the remaining 2 Cups of Greek Yogurt, the remaining 1/4 Cup of Maple Syrup,1 Tsp of Peppermint Extract, and 1/2 Tsp of Vanilla Extract. Mix well.
Evenly spread the white layer over top of the chocolate layer. Add toppings like crushed candy canes, white chocolate chips, or sprinkles if you'd like!
Freeze for 3-4 hours or until solid. Once the mixtures are completely frozen, break the sheet into smaller chunks and store them in a freezer-safe bag.


Air Fryer Cinnamon Apple Chips
These apple cinnamon chips only require 2 ingredients, are super easy to make, and act as a great healthy alternative to potato chips when you're feeling snacky!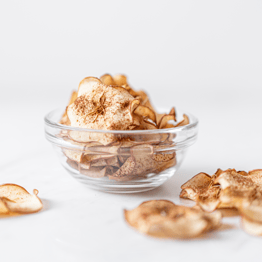 Ingredients
Ground Cinnamon
2 Apples
Instructions
Begin by washing and drying the apples. After they are dry, use a sharp knife or mandolin to cut the apples into slices about 1/8 inch thick. (You don't need to core the apples, but do remove the seeds before cooking.)
Sprinkle 1 Tsp of Ground Cinnamon on the apple slices and place them in a single layer in the air fryer without overlapping.
Once they're in the basket, set the air fryer to 380 degrees F for 8 to 10 minutes. Turn the slices halfway through cooking.
After they have cooked, let them sit to crisp up for roughly 10 minutes, and enjoy!


Rudolf Celery Sticks
Convincing kids to go for healthy snacks during the holidays can be hard. But these cute and healthy reindeer-shaped treats are delicious and perfect for bringing to your next holiday party!

Ingredients
Celery
Fresh Cranberries
Peanut Butter or Almond Butter
Nutella or a Chocolate Spread
Twist Pretzels
Candy Eyes
Instructions
Wash and dry celery and cranberries. Cut the celery into 3-4 inch pieces, and then use a butter knife to fill with peanut butter or Nutella.
Break the pretzel twists in half and place them on the top of the celery stick in the filling to create the antlers.
Add a fresh cranberry to the center for the nose, and then add the candy eyes to finish!
---