First things first, Matt deserves a major high five. 🖐
He has lost more than 170 pounds since his journey began.
Matt is a member of our O2 Fitness Hanover Club in Wilmington, North Carolina. His story has inspired everyone around him, including other O2 Fitness members and trainers, so much so that we wanted to share his story in hopes that it might motivate you to go for it, too.
BEFORE & AFTER: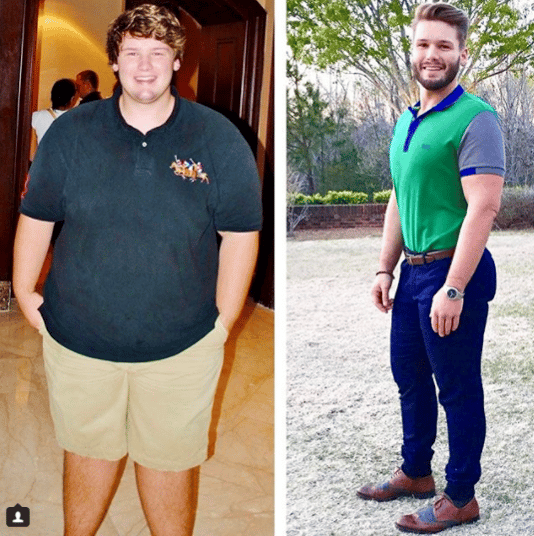 Matt's Story:
I made the decision to finally get serious about weight loss July of 2012 after watching the documentary, "Fat, Sick, and Nearly Dead." The movie shows the powerful impact of cutting processed foods and substituting fresh fruit and vegetable juice to change many overweight lives.

So, I started a juice cleanse, which really jumpstarted my lifestyle change. After losing some weight by juicing, I started focusing more on clean eating by following a lower-carb diet, including mostly lean protein and vegetables. After dialing in my nutrition, I began working out on my own. I saw changes in my body pretty quickly and that made me really excited.

Over the first year I lost 130 pounds. I was 370 pounds at my heaviest.

After roughly a year and half of continuous exercise and eating right, I lost 160 pounds. At that point, I was fortunate enough to have plastic surgery to remove excess skin from my chest and stomach. About 6 months later, having lost a total of 170 pounds, I had another surgery tightening the skin on my lower back and butt. These surgeries, in addition to the hard work in the gym and the kitchen, really allowed me to reach the goals I set for myself when I decided to lose weight.

Now, 5 years later, I am still very much into fitness and maintaining a healthy lifestyle. I have made it a priority to continue to grow physically and mentally to overcome any poor self image struggles I previously had. I even hired a personal trainer, Garland, to keep me accountable and progressing. He has taken my fitness journey to the next level and I have learned so much from him.
Matt's Advice to Others:
I have always hoped to inspire others to find the motivation and determination to lose weight and become healthier.

It truly is something you have to want and make happen for yourself.

For me, it took seeing those first results to really get excited about working hard every day to make myself the best me possible.

When people ask me what motivated me to lose the weight, I tell them that I made the decision to become happy.
Congrats on all your hard work, Matt!
---