Spring is here! It's not just time for Yoga, Cycling, and Barre. It's also time for fresh spring vegetables. At O2 Fitness, our favorite part about spring is all of the delicious seasonal vegetables, like beets and arugula! You already go to the gym. Now add this easy salad recipe to incorporate both food and exercise into your fitness plan:
Roasted Baby Beets and Arugula Salad with Lemon Gorgonzola Vinaigrette
Try a milder domestic Gorgonzola (rather than the equally delicious but more pungent Italian version). Using an assortment of different colored beets makes the salad more vibrant.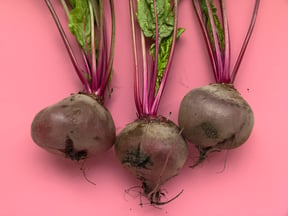 Ingredients
1/4 cup fresh lemon juice
1 tablespoon red wine vinegar
1/2 cup plus 1/3 cup extra-virgin olive oil
1/2 cup crumbled Gorgonzola cheese (about 4 ounces)
2 cups roughly torn bite-size pieces French bread
1/4 cup assorted chopped fresh herbs (such as parsley, basil, and rosemary)
1 garlic clove, minced
24 baby beets, trimmed, scrubbed
8 ounces baby arugula (about 12 cups)
Preparation
Place lemon juice and vinegar in small bowl. Gradually whisk in 1/2 cup oil. Stir in cheese. Season with salt and pepper. (Dressing can be made 1 day ahead. Cover and chill.)
Preheat oven to 375°F. Heat remaining 1/3 cup oil in medium ovenproof skillet over medium heat. Add bread pieces; toss to coat. Add herbs and garlic; toss to coat. Sauté until bread is crisp, about 4 minutes. Using slotted spoon, transfer croutons to plate in single layer. Cool.
Add beets to same skillet, tossing to coat with any remaining herbs and oil. Cover skillet with foil and transfer to oven. Roast until beets are tender, about 45 minutes. Cool beets. Peel, if desired; cut in half.
Toss arugula with 1/2 cup dressing in large wide bowl. Season to taste with salt and pepper. Top with beets and croutons and serve.
Test-kitchen tip: After being roasted, baby beets peel easily, but the skins are perfectly edible if you choose to leave them on.
Original recipe can be found at Epicurious.
---