Ever dreamed of running on air?
Introducing the Assault AirRunner. This is not your average treadmill. In fact, it's just about as close as you can get to flying.
The Assault AirRunner is one of the newest cardio machines available at O2 Fitness that will change the way you look at your treadmill workouts. With no motor and no electricity required, this treadmill is 100% powered by you.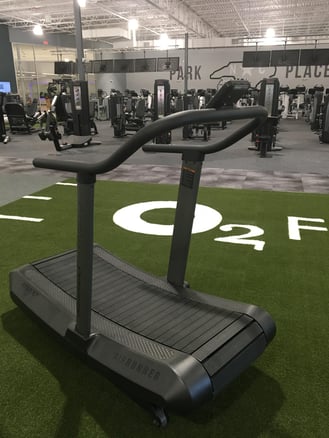 Seriously - hop on and start moving. Right away, you'll notice the belt under your feet begin to move with you. With no maximum speed, the AirRunner can accommodate runners of all levels.
Designed with high intensity interval training (HIIT) in mind, the Assault AirRunner also allows you to change speeds quickly. No more holding down the "up" button to begin a sprint. This high-tech treadmill allows you to immediately boost your speed and easily back down for a seamless interval-based workout.
If there's no electricity, does that mean there's no screen? Don't worry, you can still track your running stats. Just like other treadmills, the AirRunner's screen shows you total time, calories burned, distance, speed, watts, and pace.
Ready to get sweaty? Since this treadmill runs on your power, you'll burn up to 30% more calories with the AirRunner than the average motorized treadmill.
Hop on and take this for a ride at Park Place, Brennan Station, James Island, Holly Springs, and Hanover. The AirRunner will be available soon at the brand new Ashley Oaks, Brier Creek, and Friendly Center locations.
---