Long Leaf Mall Club Closing in December
We continually analyze our clubs to determine if they are meeting our brand standard and if we feel a club is not meeting our standard, we investigate all possibilities of potentially improving the club. We have worked hard to find ways to improve the Long Leaf club, but we are not able to create the environment that we feel is needed to help all members meet their fitness goals. This is a particularly hard decision as we greatly respect the two decades of history at this club and all the great memories that many of our members and team members have from this location.
The last day of operation for the Long Leaf Club will be Saturday, December 21st.
Upgrades Coming to Wilmington Clubs
Though it's always hard to decide to close a club, we are excited about what is happening at the other four clubs in the Wilmington market. All four will receive significant upgrades in the near future – starting immediately at Racine and Porters Neck. Next week, we will begin the renovation process with both clubs receiving updated flooring and function turf, new paint, upgraded lobbies and many new pieces of equipment. Racine will also be getting a new roof, new HVAC and the addition of an awesome outdoor workout space.
Later this year we will be upgrading the Hanover location to our Signature model, which we feel will make it one of the best facilities in the state, and we will also begin a major renovation of the Mayfaire club. Once finished, the Mayfaire renovation will almost double the size of the current club and will include upgraded locker rooms, greatly increased functional training space and beautiful new Group Fitness and Mind-Body studios.
---
Long Leaf Mall Membership Updates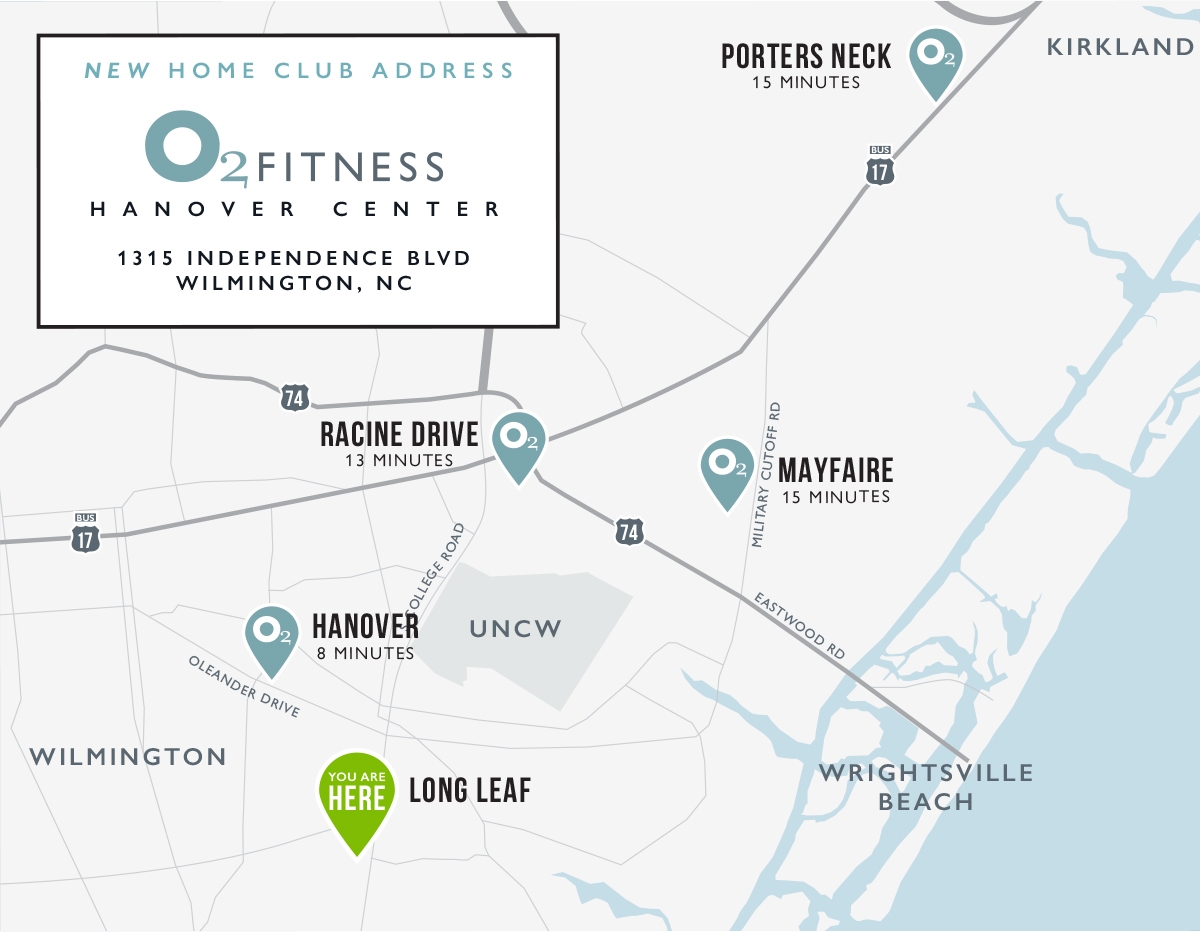 To help with the transition to a new O2 Fitness location in the Wilmington area, all Long Leaf members will be upgraded at your current rate to all-access memberships. This upgrade will be in place for the foreseeable future and will go into effect this Friday, November 29th.
If you wish to opt-out of your membership when the Long Leaf Mall location closes, please fill out this form to submit a request.
---